Introduction to the Y-Quest Series...
In this series, we'll look at the basic codebase, and the platform specific modifications for each platform
Y-Quest!
Constants and Data definitions
YQ_Multiplatform.asm - the multiplatform code
Lesson YQuest7 - PC Engine / Turbografix Specific code
Lets port Yquest to the PC-Engine

For simplicity, We're going to use the tilemap to do the graphics... we're going to have some trouble though, as the default bank mapping only gives us 8k ram!




Lesson YQuest9 - NES Specific code
Lets look at the NES port - We'll be using the tilemap to do the ingame graphics.
Unfortunately because we can't write to VRAM except during Vblank, we'll create a buffer to store the changes, then transfer the buffer during Vblank




NES Header

The C64 can only do 8 hardware sprites - and we would need 40 to do all the enemy objects!
Many games get around this limitation by altering and moving the sprites as the screen redraws, so one hardware sprite draws multiple objects in multiple different horizontal lines of the screen, but this is complex, and outside of the scope of this tutorial.

Buy my Assembly programming book
on Amazon in Print or Kindle!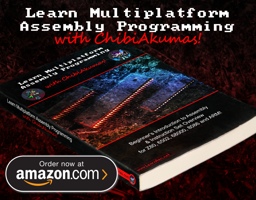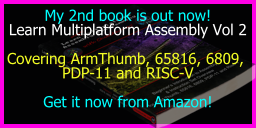 Available worldwide!
Search 'ChibiAkumas' on
your local Amazon website!

Click here for more info!